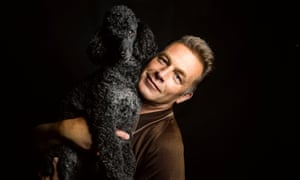 The TV naturalist wants viewers to understand what it's like to be him – ​and the results are brilliant
When you first lick the back side of a beetle that's oozing a yellow fluid, and it's bitter on the taste of your tongue as if you've licked a dirty old sixpence, and it doesn't go away for an hour, that's a really quite powerful thing," says Chris Packham.
I'm hoping it's back side, not backside. And beetle, not Beatle … Anyway, having spent his entire life hiding his form of autism, the TV naturalist is opening up about it. He wants people to begin to understand what it feels like to be him. Chris Packham: Asperger's and Me (BBC2), it's called. And it's brilliant.
He is very good at getting across some idea of what it's like to have a brain that is different, the sensory overload he experiences, sounds, smells and tastes. Including – mmm – the earthiness of tadpole. They – the tadpoles – were Chris's friends, instead of children friends, when he was at primary school. Until he ate them, that is, and until he fell in love with a kestrel.
Source: Chris Packham: Asperger's and Me review – a brave, ballsy film | Television & radio | The Guardian